At the beginning of the season we asked you for your tips. Who will win the Super Bowl, who will be MVP and how will individual Seahawks players perform? We now have an answer to these questions, which have been cross-checked with your submissions. Who won the first edition of the Champions Tip?
Currently, 19 female and 69 male fans are part of this club. We are therefore all the more pleased that a person from the small minority has won. Kathrin Gwaltsleitner was by far the best tipster in the 2014 Champions Tip. Here is the final ranking:
Results list:
Kathrin Gwaltsleitner - 36 points
Lukas Dorfmüller - 32 points
Michael Gwaltsleitner - 30 points
Lukas Heller & Martin Charwat - 29 points each
Joshua Faul - 26 points
Jörn Degreif - 25 points
Mario Kluckow & Martin Schmitt - 24 points
Tobias Urban & Maximilian Länge - 23 points
Hendrik Dane - 21 points
Sascha Siepmann - 16 points
Prices:
Kathrin Gwaltsleitner - A football signed by the Seattle Seahawks
Lukas Dorfmüller - selected fan articles worth $15
Michael Gwaltsleitner - selected fan articles worth $10
Congratulations to all participants and winners! Hopefully you will be back again next season!
The winners will receive their prizes by post. We will send them to your GSH address. Should your address change in the meantime, please inform us as soon as possible so that the prize does not end up in the middle of nowhere.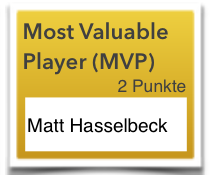 Finally, a small excerpt from the submissions. This answer comes from member Sascha Siepmann. Picking former Seahawks quarterback Matt Hasselbeck as MVP despite his backup role and strong competition - that takes a lot of courage. We want to reward this with a small surprise special prize. Congratulations!
13 participants, four winners - what does that tell us? The campaigns of the German Sea Hawkers are worthwhile and involve little effort. The chance of winning a prize is relatively high. We would be happy if even more members participate in the next competition!