An dieser Stelle fassen wir alle Informationen und Entwicklungen rund um den Kader der Seattle Seahawks zusammen. Bis Dienstagabend um 22 Uhr deutscher Zeit müssen die Verantwortlichen um Head Coach Pete Carroll und General Manager John Schneider ihr Aufgebot von 90 auf 75 Spieler reduziert haben. Von 75 auf 53 Spieler verkleinert wird der Kader dann am Samstag. Die Roster Cuts sind kein schöner Teil des Geschäfts, doch sie gehören dazu.
Die neueste Meldung steht immer ganz oben.
+++
04.09. – 10:40 Uhr: Der aktuelle Kader der Seahawks für die Saison 2016
Quarterbacks

 2 Trevone Boykin
 3 Russell Wilson

Running backs

36 Alex Collins
32 Christine Michael
22 C. J. Prosise
34 Thomas Rawls

Wide receivers

89 Doug Baldwin
15 Jermaine Kearse
16 Tyler Lockett RS
 6 Tanner McEvoy
10 Paul Richardson

Tight ends

88 Jimmy Graham
81 Nick Vannett
86 Brandon Williams
82 Luke Willson

Offensive linemen

68 Justin Britt C
74 George Fant T
79 Garry Gilliam T
63 Mark Glowinski G
53 Joey Hunt C
76 Germain Ifedi G
70 Rees Odhiambo G
78 Bradley Sowell T
73 J'Marcus Webb T

Defensive linemen

56 Cliff Avril DE
72 Michael Bennett DE
55 Frank Clark DE
98 Justin Hamilton DT
99 Quinton Jefferson DT
91 Cassius Marsh DE
93 Tony McDaniel DT
90 Jarran Reed DT
77 Ahtyba Rubin DT

Linebackers

52 Brock Coyle MLB
57 Mike Morgan OLB
58 Kevin Pierre-Louis OLB
54 Bobby Wagner MLB
50 K. J. Wright OLB

Defensive backs

31 Kam Chancellor SS
 1 DeAndre Elliott CB
20 Jeremy Lane CB
33 Kelcie McCray SS
— L. J. McCray SS
— Dewey McDonald FS
40 Tyvis Powell SS
35 DeShawn Shead CB
25 Richard Sherman CB
27 Tharold Simon CB
23 Steven Terrell FS
29 Earl Thomas FS

Special teams

48 Nolan Frese LS
 4 Steven Hauschka K
 9 Jon Ryan P

Injured Reserve

95 Tavaris Barnes DE (IR)
42 Brandon Cottom TE (IR)
30 Stanley Jean-Baptiste CB (IR)
38 Tre Madden RB (IR)
42 David Perkins DE (IR)
26 Mohammed Seisay CB (IR)
87 Ronnie Shields TE (IR)

Rookies in Kursivschrift
+++
04.09. – 10:36 Uhr: Alle Cuts dieser Saison in der Übersicht
Cuts to 75: 
DB Brandon Browner
FB Kyle Coleman
WR Montario Hunter
DE DeAngelo Tyson
WR Deshon Foxx
RB George Farmer
CB Trovon Reed
DE Josh Shirley
WR Kevin Smith
RB Zac Brooks
LB Quayshawn Nealy
LB Pete Robertson
G Kristjan Sokoli
C Patrick Lewis
Cuts to 53:
G Jahri Evans
FB Will Tukuafu
DT Brandin Bryant
TE Clayton Echard
QB Jake Heaps
LB Steve Longa
WR Douglas McNeil
WR E.Z. Nwachukwu
LB Kache Palacio
G Will Pericak
RB Troymaine Pope
DE Ryan Robinson
CB Tye Smith
DT/FB Tani Tupou
WR Kasen Williams
CB Marcus Burley
DT Jordan Hill
LB Eric Pinkins
OT Terry Poole
TE Joe Sommers
RB George Farmer
CB Trovon Reed
WR Kevin Smith
DT Sealver Siliga
+++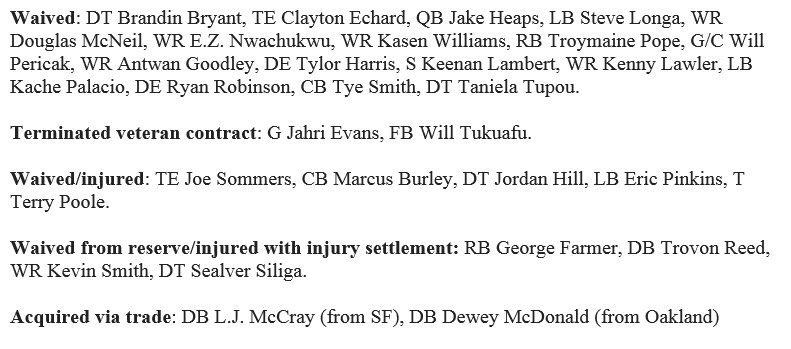 +++
30.08. – 22:40 Uhr: Sieben weitere Roster Cuts
Neben den unten bereits aufgeführten Spielern müssen nun auch noch
WR Kevin Smith
RB George Farmer
CB Trovon Reed
DE Josh Shirley
LB Quayshawn Nealy
LB Pete Robertson
G Kristjan Sokoli
ihren Spind ausräumen. Damit ist der Kader nun bei 75 Spielern. Nach dem letzten Preseason Game wird dann am Samstag auf 53 Spieler reduziert. Das ist dann der Kader, mit dem die Seahawks in die neue Saison gehen.
+++
30.08. – 22:15 Uhr: Center Patrick Lewis muss gehen.
Lewis kam 2014 aus Jacksonville nach Seattle und sprang als Ersatz ein, wenn Max Unger verletzt war. Nach dem Graham/Unger-Tausch wurde Lewis aber vergangene Saison nicht automatisch Starter, sondern musste hinter Drew Nowak in Wartestellung gehen, bis die Trainer nach Week 9 Nowak auf die Bank setzten und Lewis eine Chance gaben. Nach diesem Personalwechsel machte die O-Line der Seahawks einen besseren Eindruck für den Rest der Saison und Lewis blieb Starter bis zum Saisonende.
+++
Kurze Übersicht über die aktuellen Roster Moves, Stand 30.08.2016 10:45 Uhr.
8 Leute müssen heute noch gehen um den 75er Kader zu erreichen:
Waived:

FB Kyle Coleman
WR Montario Hunter
DE DeAngelo Tyson
RB Zac Brooks

Terminated Veteran Contract
Waived/Injured
Placed on Injured Reserve (aber weiter im Kader)
+++
30.08. – 10:40 Uhr: Running Back Zac Brooks, den die Seahawks im diesjährigen Draft in der siebten Runde gedraftet haben, wurde entlassen.
+++
Brandon Browner wurde released:
#Seahawks haven't practiced Brandon Browner for last 2 days. Word getting out what we've known, SEA is cutting him.

— Gregg Bell (@gbellseattle) August 29, 2016
Außerdem wurden FB Kyle Coleman, WR Ontario Hunter, DE DeAngelo Tyson und WR Deshon Foxx gewaived. DT Sealver Siliga wurde auf die Injured Reserve-Liste platziert und bleibt damit im Kader.
#Seahawks waived former #Ravens DE DeAngelo Tyson. Also LB Kyle Coleman, WR Deshon Foxx and WR Montario Hunter.

— Dov Kleiman (@NFL_DovKleiman) August 29, 2016
Seahawks today also put DL Sealver Siliga on Injured Reserve. Does not count against 90-man limit.

— Bob Condotta (@bcondotta) August 29, 2016
+++
Scheinbar hat es schon in der ersten Runde ein paar erfahrene Spieler erwischt:
Appears #Seahawks have made a couple veteran cuts. Will tweet out details when they're confirmed by team.

— Stephen Cohen (@scohenSEA) August 28, 2016
Pete Carroll says #Seahawks won't announce any cuts until Tuesday, but process has started.

— Stephen Cohen (@scohenSEA) August 28, 2016
+++