Nach dem Spiel gegen die San Francisco 49ers ist die Regular Season 2016 vorbei. Weil die Konkurrenz aus Atlanta sich jedoch keinen Patzer mehr erlaubte, geht es für die Seattle Seahawks nun in der Wild-Card Round gegen die Detroit Lions. Das Team aus dem Pacific Northwest trifft in der Nacht von Samstag auf Sonntag auf die schlechteste Defense der NFL – zumindest wenn es nach FootballOutsiders.com geht. Und das, obwohl die Lions in Person von Darius Slay einen der besten Cornerbacks der Liga haben. Hier wird das Matchup gegen Seahawks-WR Doug Baldwin interessant –  jedoch mit einer Besonderheit. Doug Baldwin agiert häufig aus dem Slot. Dorthin bewegen sich die Top-Cornerbacks für ihr Matchup nur äußerst selten.
Eine große Stärke von Baldwin ist das Fangen. Pro Football Focus listet ihn in dieser Kategorie als Top-10-Receiver. Wie schon im vergangenen Jahr liegt seine Catch-Rate bei 75 Prozent und damit im Vergleich mit den restlichen Wide Receivern der Liga sehr hoch. Eine weitere große Stärke Baldwins ist Route Running, sprich die Art und Weise, wie er seine Routen auf dem Spielfeld läuft. Durch seinen dynamischen ersten Schritt schafft er es oft, schon an der Line of Scrimmage den Verteidiger loszuwerden.
In der laufenden Saison hat Baldwin, sowohl was Targets (125) und Receptions (94) als auch Yards (1128) angeht, einen neuen Karrierebestwert aufgestellt. Mit entscheidend war dafür das Spiel gegen die Arizona Cardinals in Week 16, als Baldwin auf 13 Receptions kam. Am frühen Sonntagmorgen gegen Detroit ist zu hoffen, dass Baldwin in der Planung der Seahawks eine ähnlich dominante Rolle einnimmt wie gegen Arizona. Der einstige Undrafted Free Agent muss sich möglichst oft gegen Darius Slay durchsetzen, denn einen Ausfall als Ziel Russell Wilsons wäre sehr bitter. Von allen Pässen des Spielmachers gingen über 22% in die Richtung seines Lieblingsreceivers.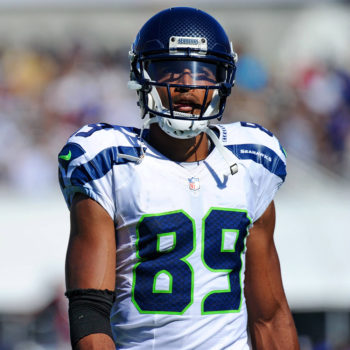 [bsf-info-box icon="Defaults-info-circle" icon_size="32″ title="Statistics of the week"]
In this section, once a week during the season, we provide you with a number that characterises the Seattle Seahawks game well and analyse why that is the case. Whether it's Russell Wilson's passer rating, the number of sacks allowed by the O-line or Bobby Wagner's number of tackles - the love of statistics in the land of American football's origins offers numerous opportunities to delve deeper into the subject matter.
Do you have data/values/stats that you think describe our favourite team well? Let us know in the comments!
[/bsf-info-box]