Im Spätsommer 2014 trafen sich rund 15 deutsche Seattle Seahawks-Fans in Frankfurt am Main, um erstmals die Idee eines offiziellen Fanklubs zu diskutieren. Ein Jahr später am gleichen Ort: Aus 15 waren 30 geworden, die bei gemeinsamem Essen und Trinken über ihr Lieblingsteam fachsimpelten. Noch ein Jahr später – am vergangenen Samstag – in Hattersheim bei Frankfurt am Main hatte sich die Zahl wieder verdoppelt. Rund 60 Mitglieder der German Sea Hawkers e.V. fanden sich zusammen, um ihre Mitgliederversammlung 2016 abzuhalten. Eine Erfolgsgeschichte bekam ihr nächstes Highlight.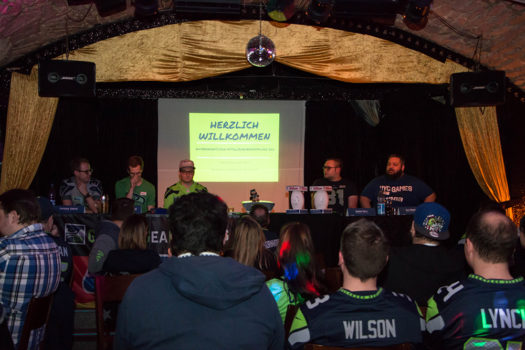 In der atmosphärischen Umgebung des Posthofkellers in Hattersheim begann die Mitgliederversammlung um 17 Uhr mit dem offiziellen Teil. Mit Hilfe einer ausführlichen Präsentation nahm der Vorstand (anwesend: Kai Preston, Patrick Kunze, Stefan Gutermuth, Maximilian Länge) zu Beginn des von Versammlungsleiter Simon Kell eröffneten Abends alle Mitglieder mit auf eine Reise durch das zurückliegende Vereinsjahr. Angesprochen wurden unter anderem die abgeschlossene Eintragung ins Vereinsregister, der anhaltende Erfolg von Inhalten auf Website und in den Social Media sowie Veränderungen im Fanklub.
Neben dem Rückblick auf Daten, Namen und Zahlen aus dem abgelaufenen Vereinsjahr standen aber auch Gegenwart und Zukunft im Mittelpunkt des offiziellen Teils. Thema waren dann die aktuelle Mitgliederzahl, der laufende Logo-Wettbewerb des Central Councils und die Kommunikation mit dem Fanklub-Hauptquartier in Seattle. In diesem Rahmen bekam Bodo Popp auch den Preis für seinen Sieg beim Champions-Tipp 2016 – einen signierten Football – überreicht. Zudem wurden drei Anträge diskutiert, die von Mitgliedern im Vorfeld der #GSHMV16 eingereicht worden waren.
Im Ausblick-Teil der Präsentation wurde der Fokus auf die Zukunft gelegt. Im kommenden Jahr stehen erstmals Wahlen an. Außerdem wurden Ideen vorgestellt, die die Entwicklung im Fanklub auch nach der Mitgliederversammlung 2016 in Bewegung halten sollen.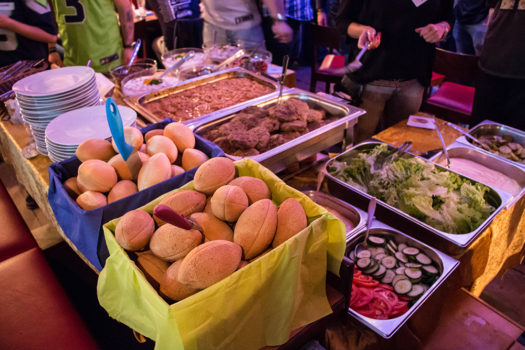 Zum Abschluss des offiziellen Teils wurde das Programm für den inoffiziellen Teil des Abends sowie der Spendenzweck der Veranstaltung präsentiert. Gesammelt wurden mit Hilfe einer Tombola für die Deutsche Gesellschaft für Muskelkranke e.V., die beispielsweise auch Mitglied Tobias Baumann, der an Muskelschwund leidet, unterstützend zur Seite steht. Außerdem wurde mit dem Erlös ein NFL GamePass für Tobias finanziert, damit er sich in Zukunft auch Spiele der Seattle Seahawks ansehen kann, die nicht im deutschen Free-TV übertragen werden. Am Ende kamen durch den Losverkauf (die Lose waren innerhalb von wenigen Minuten ausverkauft) sowie Spendengelder insgesamt über 300€ zusammen, die nun bald an Tobias und die DGM übergeben werden. Dafür vielen Dank!
Den Übergang zwischen offiziellem und inoffiziellem Teil des Abends stellte ein reichhaltiges Buffet dar. Die Mitglieder kamen im Posthofkeller in den Genuss von BBQ Pulled Pork, Hamburgern, Coleslaw, einer Auswahl an Salaten und leckerem Brot von Eat the Ball.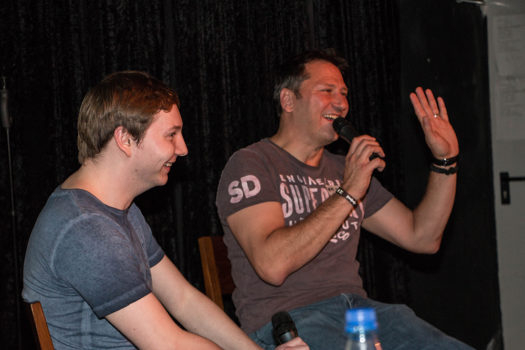 Als der Hunger verflogen war, konnte das Rahmenprogramm beginnen. Moderator Timo Czerwonka betrat gemeinsam mit Special Guest Roman Motzkus (#ranNFL) die Bühne. In der Folge durften die anwesenden Mitglieder einem spannenden Gespräch lauschen, in dem der Schwerpunkt auf den Seattle Seahawks sowie Motzkus' Arbeit als deutscher American Football-Experte und -Kommentator lag. Anschließend wurde die Runde ins Publikum geöffnet – Fragen ließen nicht lange auf sich warten.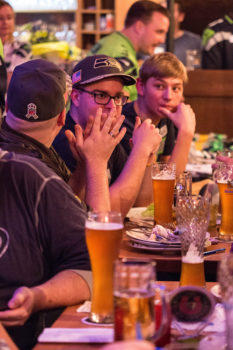 Später am Abend bekamen alle Teilnehmer bei einem Quiz die Möglichkeit, ein Stück Kunstrasen aus dem CenturyLink Field, der Heimstätte der Seattle Seahawks, zu gewinnen. Gewinnen konnten Mitglieder aber nicht nur dann. Im Hintergrund wurden bei der bereits thematisierten Tombola zahlreiche Preise wie signierte Footballs, Poster, T-Shirts und Aufkleber verlost. Außerdem konnten vor Ort auch die Seahawks-Socken von Strideline erworben werden.
Das Ende des Rahmenprogramms bedeutete aber noch lange nicht das Ende der Veranstaltung. Bis nach Mitternacht saßen die Mitglieder anschließend zusammen, fachsimpelten über ihr Lieblingsteam, kamen mit Roman Motzkus ins Gespräch und lernten sich bei ein paar oder auch ein paar mehr Getränken gegenseitig besser kennen.
"Dieser Abend wird schwer zu toppen sein", war die einstimmige Meinung, als die letzten 12s sich auf dem Heimweg machten.
Abschließend gilt unser Dank…
allen Mitgliedern, die vor Ort dabei waren,
Stefanie Huß und dem Team von Eat the Ball,
Hartmuth Freier von Strideline Germany,
Special Guest Roman Motzkus,
Versammlungsleiter Simon Kell und Moderator Timo Czerwonka,
Fotograf Eric Mühle (em Photography),
dem Team vom Posthofkeller Hattersheim,
und dem Organisationsteam eines wirklich gelungenen Abends.
Spenden an die German Sea Hawkers e.V. (Sparkasse Karlsruhe Ettlingen) sind weiterhin möglich:
IBAN: DE68 6605 0101 0108 2454 16
BIC: KARSDE66XXX
Verwendungszweck: Bitte angeben, ob die Zuwendung dem Spendenzweck des Abends oder ganz allgemein dem Fanklub gilt.
Alle Fotos des Abends sind zu sehen in einem Album auf unserer Facebook-Seite.
Die Präsentation sowie das Protokoll zur Versammlung finden sich in Kürze exklusiv für Mitglieder im Forum zum Download.
Die besten #GSHMV16-Tweets:
On my way to Frankfurt #GSHMV16 #vorfreude #gohawks

— Sven Pehrs 😷 (@SvenPehrs) November 5, 2016
https://twitter.com/simonkell/status/794968989843734528
.@RomanMotzkus bei der #GSHMV16 über #ranNFL, #Seahawks und @Icke41. pic.twitter.com/jNd5PPUlQD

— German Sea Hawkers (😷) (@SeaHawkersGER) November 5, 2016
Nun kommen wir zum Vergnügen. #strideline ist auch am Start 💚 @StridelineGer #GSHMV16 #WeAre12 @SeaHawkersGER pic.twitter.com/R5apZCZPD4

— M. Dudeson (@mdudesonm) November 5, 2016
@SeaHawkersGER You can't say enough great things about #GSHMV16 ?? @RomanMotzkus thanks for coming #12seveywhere pic.twitter.com/E1IfS7pQVl

— Steffi Popp (@PoppSev76) November 6, 2016